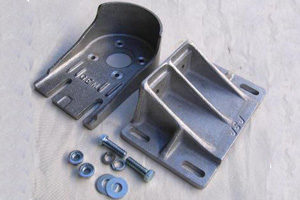 EM-01
Copy of GEM 2 piece side mount for Mac's. Engine sits up about 10 degrees from horizontal. $149. set, or $75. each piece. I have ONLY 3 bases and 5 sides left! This engine plate can be drilled for different angle from zero to 45 degree (not returnable).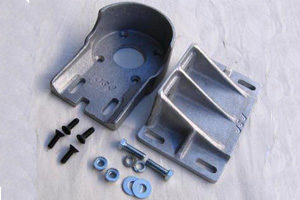 EM-02
2 piece mount for WB610/820 engines. Base is copy of WestBend 'logo' factory mount,(not correct in photo, see EM 09 below) side is copy of GEM side mount. Engine holes are countersunk and flathead allen bolts are included. $169. for set. Base only is $99. and side only is $75, Also have steel side plate only for $35.(see EM 10 below) Recoil starters are NOT recommended on these engines unless you have a compression release!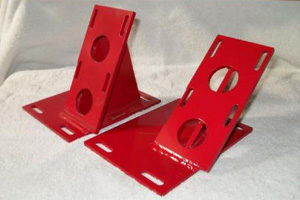 EM-03
McCulloch steel engine mounts. Exact copy of Mac factory 65 degree mount for F-1, R-1 etc. Also available in 45 degree, and with Mac or Briggs pattern base plate. (only McCulloch kart frames use the Mac pattern) $59. U-weld kit save 25%. (45 degree mounts are going to be discontinued when parts are depleted)

EM-04
West Bend-Power Products 2 piece mount fits all 'round' West Bends, 500 rookie engine, Power Products 3 and 4 bolt cases. $99. Steel side plate only, $35.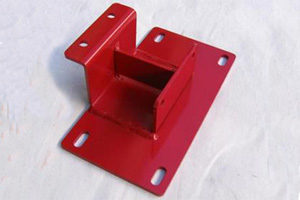 EM-05
Copy of factory steel mount for WB580/700 engines. Engine is centered fore-aft for LH or RH mounting. Available with different offset to your spec's, no returns. $39. U-weld kit save 25%.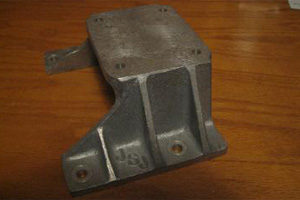 EM-06
Copy of early GEM mount used on '60 Fox/Mac karts and others. Vertical mounting for Mac engines. $79.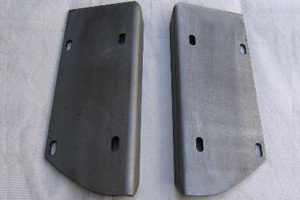 EM-07
Go Kart 800 frame plates. Exact copy of original, $39. pair.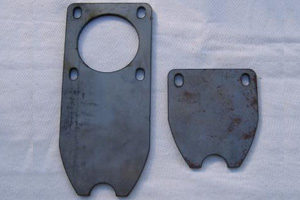 EM-08
Go Kart Big Bear Scrambler engine plates. NO more!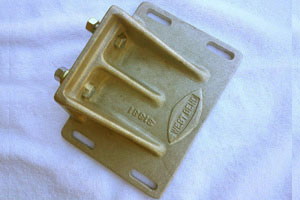 EM-09
Copy of West Bend 'logo' base mount. $99. Note, the new batch of the logo mounts has been beefed up on the base plate making it thicker, and the slots not so close to the edges. Still the standard Briggs pattern, just stronger than the original or earlier repro's.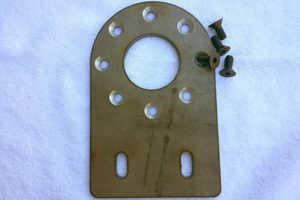 EM-10
Copy of 820 steel side plate only. Countersunk and bolts included. Also available not countersinked. $35.