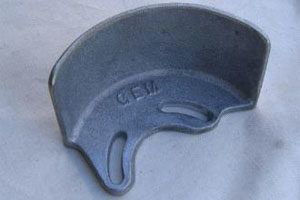 MP-01
GEM style outboard chain guard. Fits all Macs. $29.

MP-02
Belt Starter Cups. Short one fits all Mac's and West Bends except 101A and later. Long one fits anything. Billet aluminum tumbled finish. Perfect balance. $35.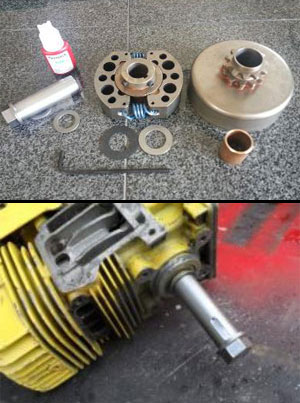 MP-03
Finally, a ¾" clutch kit for Big Mac saw engines with the stubby crank. No need to hunt down a crank and disassemble the engine.. Perfect for Mini Bikes. The clutch is a Noram RC60, 11 tooth, 35 chain, A sturdy 4 cycle clutch that is re-sprung for 2 stroke operation. The bushing is also modified for this adapter. The adapter is CNC machined, and made specifically for the Noram clutch. This set up has been tested and thrashed at vintage kart meets for the past 5 years plus, and approved by the geniuses here at Classic Kart Shop! Whole kit includes everything needed, $139. Adapter only, includes seal guard, key, blue thread lock, and instructions. $49. Read instructions here.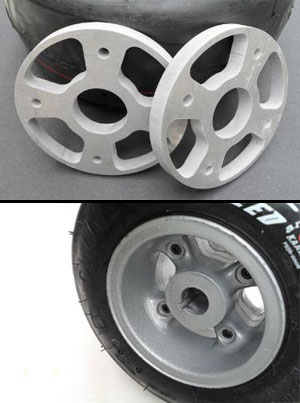 MP-04
Precision Wheel Spacers. Full support spacers for 5 inch, 4 spoke Precision wheels as found on Hornet karts and others. Water jet cut from ½ inch aluminum plate. Stack nicely. No burrs, no wobble, ready to go! $69. pair, $124. two pair.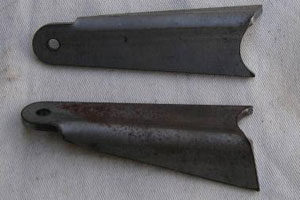 MP-05
Go Kart 800/1200, Flexo spindle arms. Exact copy of original. $29. pair.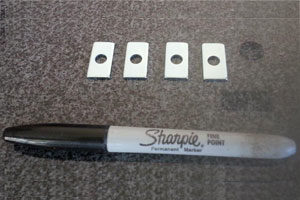 MP-06
West Bend shroud clips. Zinc plated steel replacement clips for 510-700 engines. 4 for $10.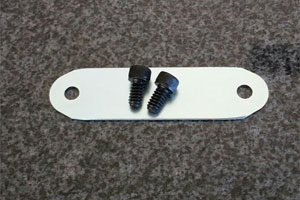 MP-07
Mac Exhaust Cover. Zinc plated steel cover lasts a lifetime. For storage or shipping an engine. $3.25 each/ $15. for 5 pack.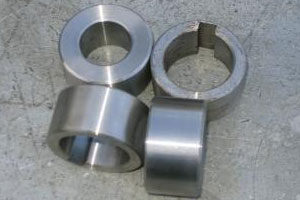 MP-08
Steel weld-in slugs to convert steel bearing wheels to 1" live axle for fun karts. 1-3/8" OD. Set of 4 for 2 wheels. $20.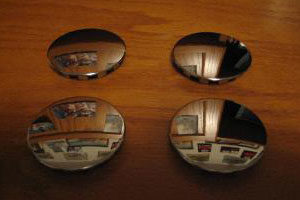 MP-09
Dart Hubcaps for 5" turbine wheels, show chrome, set of 4 $39. No longer available, sold out!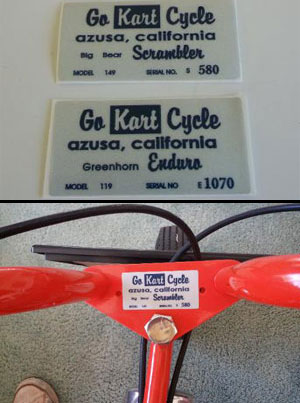 MP-10
Go Kart Cycle stickers for Big Bear Scrambler and Greenhorn Enduro. Finish off that restoration with this quality sticker! Reflective vinyl, ink jet, and clear coated. $25. each.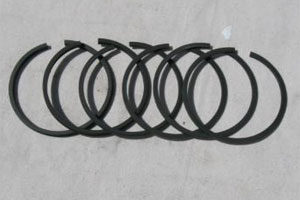 MP-11
Briggs 5 horse flathead gaskets and ring sets. Rings are 010, 020, and 030 only, no standards. $7.99 for 2 sets of gaskets or rings.

MP-12
Briggs 5, 2 sets of gaskets or rings, $7.99 each.